Welcome to Dream Catcher Farm
Home of award winning gourmet salsa made by to authentic American Indian women!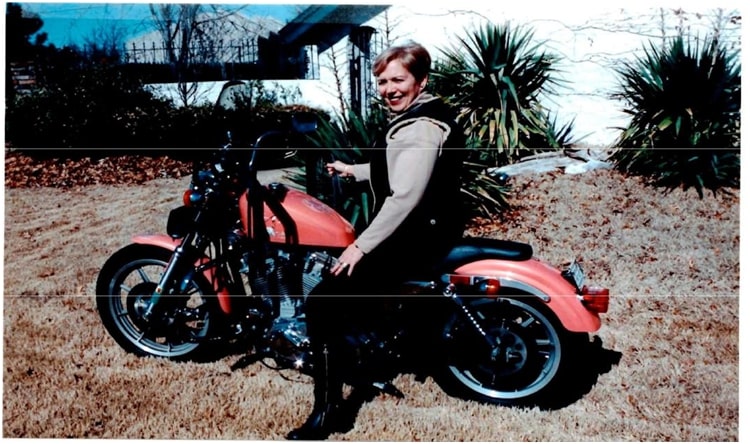 Our History
I'm showing you this picture because it was around this time that it all began. My mom helped me move to California 18 years ago and decided it was her turn to have some fun.
She sold her Mercedes, and bought a Harley so she could ride around the country. I TOTALLY freaked out about this and of course did NOT approve of her doing something that dangerous, but I was over 1,200 miles away and had no way to stop her – talk about a role reversal! During this experimental (rebellious) phase of hers, she decided to experiment with new recipes, like creating a salsa recipe of her own.
She thought it was time to make it the way she wanted it to taste… Fresh, not cooked. As usual with anything my Mom cooks, the salsa recipe was a huge success. She started making her salsa for parties she hosted, and her friends loved it so much, they started asking if she would make it for them. Because my Mom is such a hospitable person, she gladly began making salsa for her friends and soon realized it was getting pretty expensive, and she was spending a lot of her free time making salsa – not to mention that her friends told their friends who told their friends, and it was soon getting a little out of hand (Believe me, once you 've tried her salsa, or if you've already tried her salsa, you'll know that you just can't get enough). As much as my Mom loves her friends, she realized she was going to have to start charging them for salsa to recover her cost to make it and decided it would be a seasonal project or something she could give as gifts to friends for special occasions. At present, my Mom is going through a new phase where she's tired of looking at the four walls of her office and would rather spend all her time in a kitchen just making salsa. Needless to say, she's had several years to perfect this recipe since she's now way past her "mid -life crisis years" (Kidding Mom!), so we decided it 's time for her to share her salsa with everybody. Now that you've heard our journey to this point, we hope you enjoy our salsa as much as we do.
Additional Ideas
Other than eating this salsa with chips, there are numerous applications. It is a product that is great for recipes. Here are some ideas: Add it to brown beans; put it in chili; add it to guacamole; cottage cheese and salsa; put it on eggs or in an omelet; use it as a marinade for beef, chicken or fish. Actually, use your imagination and you'll love it on anything you try.